Color Matters
When I moved into my house, there was not a speck of white in the place. Everything in the house – to one degree or another – was basically some shade of brown, with a green tone here and there. Even the trim was beige.
As I gradually painted rooms throughout the house, I always painted the trim white. Ultra Pure White, by Behr, to be specific. There are about a million 'white' colors to pick from these days, but UPW is pretty straightforward, plus I don't have to wait for it to be mixed. Bonus: I can return it if I buy too much (returning unopened cans only, of course).
Man, the way trim really made a room pop was eye-opening. Especially when it was painted a bright color (white) that contrasted from the wall color, as opposed to just a different shade of the same.
Trim Style is Also Important
I took my trim-learning experience one step further when I redid my bathroom. I have always loved the idea of Craftsman-Style trim – the wider, but plainer trim has always looked crisp and modern to me. It helped that this different trim style would align with the bathroom style, so I went ahead and put the Craftsman-style trim on the bathroom door. This made me fall in love with the style even more. I've since been on a mission to slowly but surely upgrade the trim in my rooms – from door trim to window trim and the baseboards. Note, I am not talking about Crown Molding here. That's a whole other ballgame that I've yet to play, personally.
When I finally got around to painting the guest room for the first time (in my four years in the house, so far I've painted it twice now), I upgraded the trim. I also added the barn door (I'll get to that in another post, I swear), and put some decor on the walls, all of which made a big impact.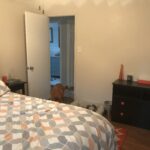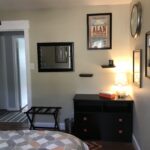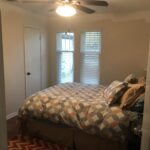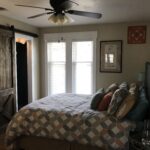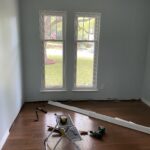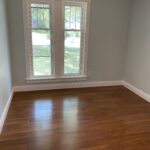 Since the guest room, I have also re-trimmed the three windows in the family room (project during early COVID-19, self-isolation days), as well as the new guest room (since the original guest room is now my office…). I think putting new trim in my kitchen will be next, followed by the rest of the family room (since I only tackled the large window). Then the hallway, which has 5 doors, and I still have my bedroom and the master bath… oh, the projects never cease!
Trim matters. It can really bring the overall look of a room full-circle, and help tie the look together. It also helps make wall colors pop a bit, and maybe it's just my personal opinion, but it makes rooms feel happier, I think. No?