"Owning a house is costly." This was easily the most consistent 'advice' I got as I was planning to buy a house. What I didn't think about was exactly how much time and energy it would cost, on top of the dollars. It's exhausting. And everyone says "there's always something" with home ownership. I get it. Light bulbs that need fixing. Sudden Ant infestation. Part of the fence that's been questionable for years finally, officially, needs fixing. The yard. The paint. The fixtures. The technology. Sometimes, I look at all of it and it just burns me out. I'm confident that I'm not alone in this feeling. And that's why I want to share with you all how I get over it, and how I continue to push forward: Treat Yo Self! 
Don't forget about you
It's important to remember to splurge on yourself, and indulge yourself every now and then. It is important to feel cared for, and to care for yourself both physically and mentally. When you're building habits or going through a daily routine, it can be draining and a bit boring. You have to remember to indulge every so often, to reward yourself for your good habits. I'm not advising you to be unreasonable, here. Don't go crazy and cause yourself any more undue stress. Choose to indulge in something that will make your life easier, and/or will bring you happiness and the ability to feel good about yourself. Some ideas:
A housekeeper once a month
A Robot vacuum to keep up with dog hair
Smart home devices
A lawn service every couple of weeks
Utilizing a grocery delivery service
Getting a massage every now and then
Personally, I've done all of the above, and they've helped me keep some peace of mind on a few everyday things (vacuuming) as well as some more rare indulgences, like a massage every so often. While technically I could be putting that money towards my debt, I know it's important to invest in experiences or things that will be good for your mental health. The list of indulgences will vary by person, of course. I do not enjoy cleaning, while I know others find cleaning to be cathartic. Some people get their nails done every few weeks – that counts, too. If you're not a fan of cooking, getting takeout or delivery meals might be an indulgence. 
Treats don't have to break the bank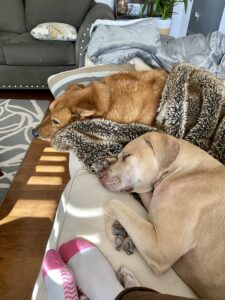 By the way, indulgences don't even have to cost money. Sometimes, when I take a weekend off from doing housework, I consider that an indulgence. If I decide to just spend the day on the couch binge-watching a new series on Netflix, I regard it as a Treat, rather than being lazy. An indulgence is something you do just because you want to. Sometimes, it's just giving yourself permission to let go a little, and not hold yourself to your normal standards. 
______
When you're spending a lot of time working around the house, or the yard, or just generally investing time and energy into improving these things for the long term, make sure you are investing something, whether it be time or money, into something you want right now, too.
What are some of the things you indulge in from time to time?