2020 has been a whirlwind year for a number of reasons. And as of this post (October 12), there's still two and a half months to go. While there have been quite a few negative setbacks this year, I feel it is safe to say that among the "silver linings" of the year has been the surge in DIY and home renovations. Admittedly, my list of renovations this year has been a bit small, due to a stress and my goal of minimizing my 'new' projects this year, but I did invest in one project: turning a guest room into an office, complete with an accent wall.  I'll give more details about that whole project some other time, but I wanted to take a minute to acknowledge some of the research I did surrounding modern accent walls. 
Check out 5 of my favorite new trends — and I'll give you a sneak peak at what I wound up doing in my new office! 
Bold, Bright Colored Accent Walls
You're right, this isn't exactly "new and different". But from what I've seen, the colors are. According to Benjamin Moore, trending right now are natural tones – earth greens, soft browns, bold grays, and ocean blues. But also trending are bright, in-your-face colors, like purple, fuscia, and lime green.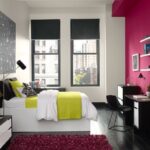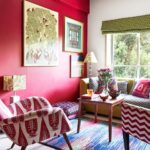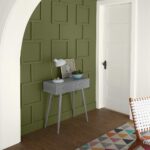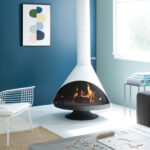 Brick or Stone Paneling Accent Walls
When I lived in Boston, I always wished I had a "loft-style" apartment with bricks and exposed vents. Something about the warm brick with the cool metal felt very inviting, somehow. While I never managed to snag that type of an apartment (I was on a budget, after all), I think it's really awesome that there are now so many different products to use to replicate this look. There is foam wallpaper that you can use, for a 3D effect that you can paint whatever color you want. There are actual plastic panels that you can mount – some are white and paint-ready, and others are actually brick-colored. And there are 'faux stone' options, which are a bit pricier, but look more legit. Granted, none of them will ever be exactly the same, but some of them come pretty close!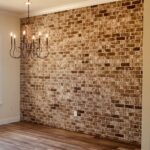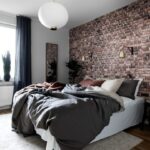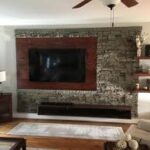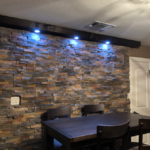 Vinyl Wallpaper for Accent Walls
Wallpapering is not for the faint of heart. However, Vinyl Wallpapering is very straightforward and easy to do, not to mention it's generally mess-free. I did an entire makeover project in my company's office space, and utilized vinyl wallpaper a lot. It's inexpensive, can achieve a lot of different looks (from brick to unique patterns), and it wasn't going to require a pro or additional helper to install them. There are a plethora of different looks you can achieve with vinyl wallpaper. My advice is to read the reviews carefully before purchasing. While you don't need to go for the really expensive versions, the cost usually coincides with the quality, and you want a high-quality print, and excellent adhesion (you don't want your wallpaper peeling off the walls a week after installing them, do you?). I used this print from Home Depot in one of our 'Phonebooth' rooms in the office, and it was my favorite!
I'll write up a post about applying wallpaper in the future. Please leave a comment if you have any questions in the mean time.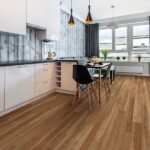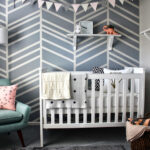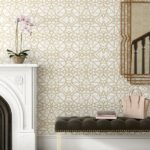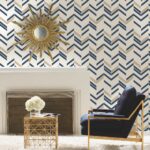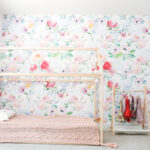 Wood Planks on Accent Walls
There are SO MANY wood paneling options. Barnwood planks. Whitewashed planks. Natural wood planks. Vinyl wood planks. SHIPLAP. Face it, wood planks and paneling are everywhere these days. But, it's for a good reason: these accent walls look awesome. Personally, I love them when they're paired with shelves and/or plants, somehow, for a true, "outside-in" approach. Wood paneling can be utilized in a Living Room, Office, Den, Bedroom, Game Room, Dining Room… pretty much anyway. This is absolutely one of my favorite trends, and I don't think it's going away any time soon.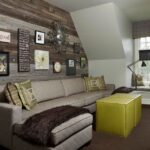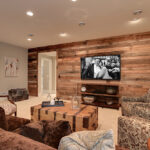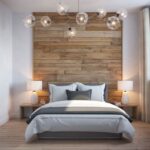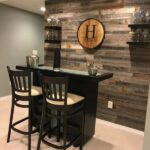 Modern Wainscoting on Accent Walls
I wasn't expecting this in my search for an accent wall for my new office. But I came across this idea, and kind of fell in love with it. I just love the added visual effect the wainscoting provides, and the way you can change the affect to blend with the rest of your style. It can be super-organized and symmetrical, or funky and abstract. The wainscoting and paint combinations can be minimalistic, for a more subtle effect, or really pop with contrast and color, to be more of a Statement piece. There was just so much to do with this technique, that I decided this was the way to go for my new office. Now, me being me, I wound up putting my own twist on the idea, but this is where I got my inspiration. I guess the wood planks were also part of the inspiration… but hey, I think it came out really well!!